Above: Housed in a renovated 1908 building, DSM Brew invites lingering.
To make this list, above all, the venue had to craft superior coffees. We also chose places where we like to linger a while.  
DSM Brew: To thrive in a crowded field, a coffeehouse must set itself apart. Mission accomplished at DSM Brew. Nitro coffee (cold-brewed, nitrogen-infused coffee served from a tap) is a specialty, and the gelato case beckons with 16 flavors. We also appreciate the spacious and clean ambiance of the renovated 1908 building. (300 W. Martin Luther King Jr. Parkway, Suite 140; 515-259-3634; www.dsmbrew.com)
Grounds for Celebration: Owners George Rivera-Davis and Jan Davis take coffee so seriously, they grown their own in Panama. The tea is sourced with equal expertise—Jan is a certified tea blender. (Locations in Beaverdale, West Des Moines, and Windsor Heights; groundsforcelebration.com)
Mars Cafe and Mars Sidebar: Whether you settle in at the Drake-area mainstay or the newer downtown location in Capital Square, you'll find expert coffee, personable baristas and a great groove. (Mars Cafe: 2318 University Ave., 515-369-6277; marscafe.net; Mars Sidebar: 400 Locust St., Suite 130; 515-288-6277; facebook.com/marssidebar)
Ritual Cafe: With works of local artists on the rich red walls and the storefront windows framing the downtown skyline, the Ritual is the kind of warm and funky, one-off coffeehouse we love. (1301 Locust St., Suite D; 515-288-4872; ritualcafedsmiowa.net)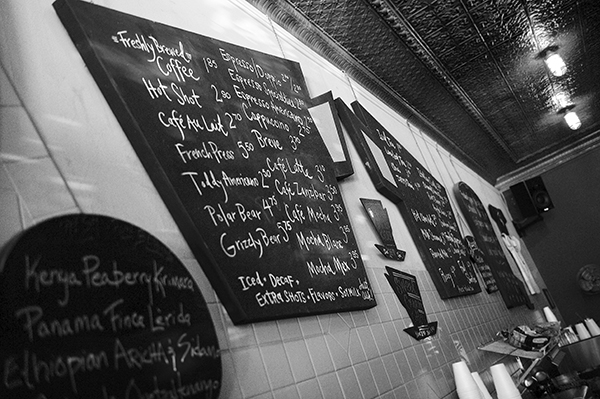 Still one of the best: Zanzibar's Coffee Adventure on Ingersoll.
Zanzibar's Coffee Adventure: One of Des Moines' first coffeehouses remains one of our best, with painstakingly sourced coffee beans roasted in-house, then crafted into precisely wrought cuppas. The neighborhood vibe is especially irresistible. (2723 Ingersoll Ave.; 515-244-7694; zanzibarscoffee.com)