PRESENTED BY SPLASH SEAFOOD BAR & GRILL
---
CENTRO
1003 Locust St.; 515-248-1780
centrodesmoines.com
Yes. You've seen so much of it all before: pizza, bruschetta, fried ravioli, giant meatballs, hearty pasta and crowd-pleasing Italian-American entrees, some sided with (wait for it…) fettuccine Alfredo. The difference is that Centro has put the passion back into the classics. Head here to taste why America fell in love with Italian-American food in the first place. More reasons to go: The craft beers are purveyed as passionately as the wine, and the see-and-be-seen draw of the downtown hot spot remains irresistible.
DJANGO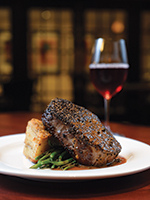 1420 Locust St.; 515-288-0268
djangodesmoines.com
Django's appeal—as a high-energy French brasserie with an easygoing vibe—endures in its new Locust Street location. The menu offers both weekend-worthy French classics, such as escargot, steak au poivre, beef bourguignon and filet Rossini, as well as weeknight-perfect France-inspired burgers, sandwiches and main-dish salads. The U-shaped raw bar, with its cheese and charcuterie station, makes Django a great spot for a nibbles-and-sips kind of night. Our only caveat: While some might call this place lively, others might call it loud.
801 CHOPHOUSE
801 Grand Ave., Suite 200; 515-288-6000
801chophouse.com/des-moines
This hallowed steak-and-martini shrine is all about opulence—it's the place to go when you're feeling flush (or when someone else is paying). With etched glass, leather booths and gleaming wood, its dining room exudes Edwardian grandeur, and the servers possess poise and polish. Best of all, the meat measures up to the well-heeled setting—this is the place for extravagant cuts of USDA prime steaks, from the velvety filet to the richly marbled rib-eye. If you're not on an expense account, go ahead and split the behemoth main dishes and sides—the staff has always been gracious when we've done so.
HARBINGER
2724 Ingersoll Ave.; 515-244-1314
harbingerdsm.com
Chef Joe Tripp often imbues his vegetable-centric small plates with flavors inspired by his repeated culinary journeys to Southeast Asia and beyond. Yet a New American sensibility flows abundantly through the menu, too. The ingredients—as locally purveyed as possible—come first, and seasonality stars on every plate. The rustic-chic ambiance, complete with reclaimed wood from a beloved local farm, underscores the restaurant's true-to-Iowa ethos. Want a sample? Test the waters at happy hour: You'll find casual-yet-detailed bites at exceedingly compelling prices from
4 p.m. to 6 p.m. 
FLEMING'S PRIME STEAK HOUSE AND WINE BAR
150 S. Jordan Creek Parkway
West Des Moines; 515-457-2916
flemingssteakhouse.com
While Fleming's doesn't quite possess the grandeur and gravitas of 801 Chophouse, the steakhouse chain delivers where it matters most: with the lusty prime-grade steaks, seared at 1,600 degrees and rife with bold, beefy flavor. Equally irresistible are the indulgent sides, such as creamed spinach and jalapeño-spiked potatoes. Keep an eye out for limited-time specials (a Tomahawk Tuesday three-course meal for two, for example, recently snagged our attention). And remember Fleming's bar menu for more casual nights—the steak sandwiches and prime burgers come reasonably priced for the quality rendered.
SPLASH SEAFOOD BAR & GRILL
303 Locust St.; 515-244-5686
splash-seafood.com
Splash endures as the city's premier spot for high-end seafood. Anchored by jet-fresh fish and shellfish in a number of preparations, the menu is vast. Yet this is one of those places where once you've found a favorite it's hard to stray—at least, that's been the case for those of us who have tasted the Chilean sea bass meunière, the Sriracha scallops and the miso salmon with edamame salad. Also, when it comes to oysters, East Coast or West, raw or cooked, we've found no reason to head anywhere else in town. Oh, and one more thing: There's never a corkage fee here. 
TABLE 128 BISTRO + BAR
12695 University Ave., Suite 140
Clive; 327-7427
table128bistro.com
Yes, you could order a signature dish at this modern-American bistro (the warm Brussels sprouts salad or the "angry donuts" come to mind); however, Chef Lynn Pritchard's passion is to "paint with all the colors in the paint-box"; that is, to continually find new ways to showcase America's diversity of cultures, cuisines and flavors. So don't go falling in love with a fennel pollen-dusted heirloom chicken breast with marbled potato chips, sautéed grapes and cashews, crispy polenta and rosemary-golden balsamic jus. It will soon be replaced. And chances are the chef will outdo himself once again. Other draws: Truly well-crafted craft cocktails and a wine list devoted to gems from smaller producers and lesser-known wine regions of the world. +
---
SINGULAR SENSATION
The Utterly Un-Categorizable Reed's Hollow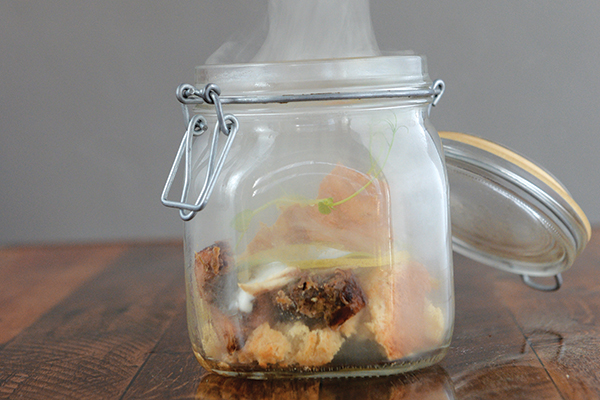 Served in a jar, Reed Hollow's smoked chicken consists of confit chicken, crispy chicken skin, hay-infused yogurt, pickled apple, applewood smoke and bourbon barbecue sauce, among other ingredients.
The word "elevated" gets bandied about often in the food world. What does that even mean? The best way to understand it is to experience it, and to do so, head to this quirky Beaverdale venue, where chef Zach Gutweiler intricately builds flavors in a way that enhances the essence (and joys) of each dish. Case in point: A dish of tomato-infused watermelon with caramel-glazed pork belly atop a green-tomato paint, with a scattering of micro-greens, makes us see the BLT in a whole new way. Note that the avant-garde food is served in a somewhat random and decidedly relaxed atmosphere.
(2710 Beaver Ave; 515-777-3625; facebook.com/reedshollow)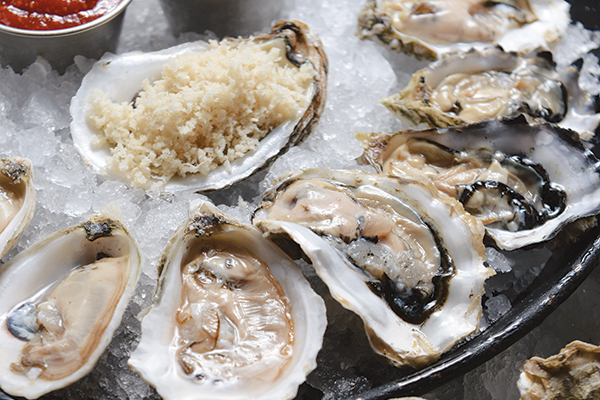 SINGULAR SENSATION
Birthday Lunch at Splash Raw Bar
Start the party with a bottle of single-grower Champagne and a slew of raw oysters—the shockingly fresh, ice-cold bivalves bring a sweet-salty-funky flavor of the sea that sets oyster lovers swooning. Continue living large with a lobster Louis salad or a shellfish platter of colossal shrimp, Alaskan king crab and Maine lobster. Finish with a slice of chocolate-truffle cake with crème anglaise. Yes, it's going to be a great year.