Above: You'll find some 120 beers on tap made by more than 30 Iowa breweries at the Iowa Tap Room.
Each of these beer-focused venues serves dozens—if not hundreds—of craft beers, as well as solid bar-grill food. They fall under the Full Court Press umbrella of restaurants, which are dedicated not only to beer, but also to showing patrons a fine time for a reasonable price.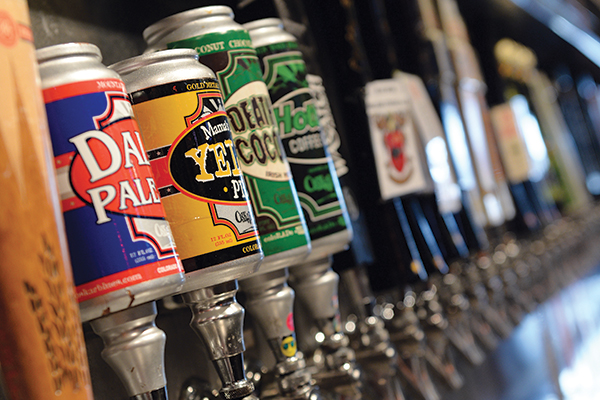 Beer taps line up and stack up at El Bait Shop, a crafty little bar with a Big Brag: more American microbrews than any other bar on the planet.
El Bait Shop: With (at last count) 262 beers on tap, plus dozens more by the can and bottle, this quirky bar-grill (pictured, right) claims to stock more American microbrews than any other bar in the world. Adding to the draw is a decidedly goofy decor that's reminiscent of a 15-year-old boy's basement room in the 1970s—in a good way. (200 S.W. Second St., 515-284-1970; elbaitshop.com)
Iowa Tap Room: One of our favorite ways to wear our locavore badge is to drink Iowa-produced beer. It's a pleasure to do so at this handsomely renovated East Village warehouse (pictured, above) that showcases 120 beers on tap made by more than 30 Iowa breweries. (215 E. Third St., 515-243-0827; iowataproom.com) 
Hessen Haus: Eins, zwei, drei, vier—have yourself a stein of bier! Why not? Especially when this true-to-München beer hall serves 150-plus German and German-style brews. Join the fun alongside a rollicking good-time crowd as you tuck into piles of hearty German food and German-kitsched bar food (e.g.: Bavarian nachos, fried sauerkraut pretzel balls). (101 Fourth St., 515-288-2520; hessenhaus.com)
The Royal Mile: Rich with well-worn dark-wood furnishings, the parlor-like setting helps you ease into the unmistakable sense of warmth and well-being of a true British pub. Enjoy one of the numerous ales, stouts, bitters, lagers and ciders to drink alongside honest pub fare. Then, choose from dozens of Scotch whiskys to sip into the night. (210 Fourth St., 515-282-2012; royalmilebar.com)
Truman's KC Pizza Tavern: Named after Missouri's most famous native son and dedicated to all Kansas City sports, all the time, this good-time joint specializes in pizza and American craft brews, including many from (you guessed it) Kansas City. (400 S.E. Sixth St., 515-214-2759; trumanstavern.com)