AMERICANA
1312 Locust St.; 283-1312
americanadsm.com
In a three-way tie, Americana vies with Django and Centro as the downtown hot spot. Which one to choose? The choice is easy when you're jonesin' for American comfort food—or, more specifically, contemporary takes on American comfort food. Here, lobster mac-and-cheese gets glammed up with a garlic, tomato and onion compote, and their signature burger swings au courant with tomato marmalade and Dijon aioli. Expect equally buzzy touches on everything from meatloaf to roast chicken. Don't miss the $7 burger special on Sunday nights. 
BUBBA—SOUTHERN COMFORTS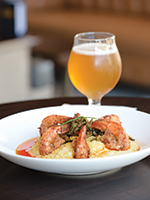 200 10th St.; 515-257-4744
Bubbadsm.com
At this ultra-stylish downtown venue, you can certainly fill up (and out) on gut-busters like chicken-fried steak and chicken and waffles. However, we mostly prefer the more refined side of the menu, such as the luscious shrimp and grits and the crab cake salad with a charred lemon-buttermilk dressing. That said, the Bubba burger, with pimiento cheese, pecan-smoked bacon and a brioche bun, gets us back on the big-food bandwagon in a hurry (and no, we won't split it). We also admire restaurateur/impresario Christopher Diebel's constant commitment to making a splash—there's always a head-turner afoot here, from a limited time custom-barrel-aged beer, to new Frozé (frozen rosé) drinks, to the exclusive unveiling of Texas wines. 
EATERY A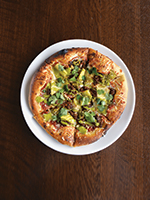 2932 Ingersoll Ave.; 515-282-8085
eateryadsm.com
What do you get when a critically acclaimed chef-restaurateur turns his attention to menu items that are priced under $20 a plate? How about Spanish octopus with chorizo, kale, Yukon potatoes and preserved lemon aioli? Or tender gnocchi with Grana Padano cheese, tomato pan sauce and a cured egg yolk? Or countless other ambitious, detailed dishes that taste like top-dollar Saturday-night splurges but come at Tuesday-night prices. Indeed, when restaurateur Jason Simon opened Eatery A in 2014, he and Chef Nick Gonwa raised the bar on casual food in this city. We cannot thank them enough.
MIYABI 9
512 E. Grand Ave.; 515-288-8885
miyabi9official.com
Chef-owner Miyabi "Mike" Yamamoto brings over 50 years of culinary experience to this cream-of-the-crop sushi spot. Enjoy expert versions of classic sushi and sashimi, but also order signature creations with confidence: Yamamoto does complex modern sushi without ever going over the top. Thanks to the energetic East Village ambiance—with historic touches amid the neo-urban unfinished look—the cool factor soars plenty high here. Our menu favorites include the shrimp dumplings, nigiri topped with warm green-lipped mussels and any roll that features the pristine tuna
and yellowtail.
ST. KILDA
300 S.W. Fifth St.; 515-369-7854
stkildadsm.com
Since opening in 2017 in the growingly chic warehouse district south of downtown,
St. Kilda has become a favorite for fresh, colorful and refined meals, from breakfast through dinner, with plenty of pastries, coffee, and cocktails for the hours in between. Only time will tell if we can move past the irresistible avocado toast (with a poached egg) or the grilled salmon (with a poached egg), but when we do, we'll probably be just as thrilled, thanks to items such as the Waldorf chicken salad with pistachio aioli or the mushroom toast, with mushroom fricassee and truffle queso spread atop toasted sourdough bread (with a poached egg). +
---
SINGULAR SENSATION
Lunch With a View at Trellis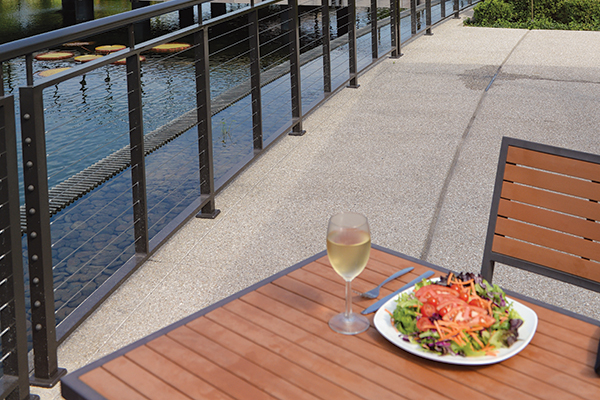 At the Greater Des Moines Botanical Garden, the restaurant's terrace overlooks the water garden, which flourishes with water lilies, water irises and three islands of tropical and seasonal plants. Add to that a panorama of downtown Des Moines looming across the river, and our natural and cultural worlds come together in one exhilarating view. So, what's to eat? Chef/owner Lisa LaValle describes her cooking as "creative cuisine from the plant world," and indeed, grains, legumes and veggies grace the menu in dishes such as a veggie-tabbouleh salad with pumpkin-mint vinaigrette. But meaty entrees—such as pasta with beef brisket and blue cheese—keep carnivores plenty satisfied, too. (909 Robert D. Ray Drive; 515-323-6288; dmbotanicalgarden.com)