Above: With a confident name like Gusto Pizza Co., you'd better roll out some fine pizza. Guess what? They do. Every time. With gusto.
CHEESE BAR
2925 Ingersoll Ave; 515-277-7828
cheesebardsm.com
With its fierce dedication to all things artisanal, the Cheese Bar is the unofficial headquarters of the slow-food movement in this city. Settle into a long, communal, farmhouse-style table for a scene reminiscent of hipster Brooklyn (and we mean that admiringly), then order platters featuring some of the world's most striking cheeses, lush pâtés and cured meats sliced so delicately thin you can read through them. Groove to the 30 painstakingly purveyed craft beers on tap; each is thoughtfully served in wine glasses, because each is worth savoring. Smörgs (Scandinavian-style open-face sandwiches), artful grilled cheeses, fondue and raclette are also major draws here. 
GUSTO PIZZA CO.
1905 Ingersoll Ave., 515-244-8786
three other locations
gustopizzaco.com
Here, a pizza is more than just cheap eats: The thin-crust pies provide the vehicle for a great ride of thoughtful combinations (e.g., the Duke, with barbecue sauce, smoked brisket, colby jack cheese, red onion and cilantro). In fact, it's hard to stick to a tried-and-true favorite at Gusto, because tempting new pies make their debut often from the never-a-dull-moment kitchen. Note that the Clocktower Square—West Des Moines location recently unveiled their take on Chicago pan-style pizza; based on our unsuccessful inaugural try, we recommend sticking with their traditional pizzas until they get the kinks worked out. 
LA MIE
841 42nd St.; 515-255-1625
two other locations
lamiebakery.com
Locals line up for the artisan breads, French pastries and desserts at this bakery cafe, which was among the first spots in town to tap into the French macaroon renaissance. La Mie or La Mie Elevate are both full-scale options for breakfast or lunch; look for omelets, soups, salads and sandwiches with creative fillings between slices of the famed fresh-baked bread. At La Mie Express, the options are fewer in number, but still plentiful, including the outstanding wood-fired lunch-sized pizzas.  
LOLA'S FINE KITCHEN
1615 S.W. Main St., Suite 106; Ankeny
515-289-9302
lolasfinekitchen.com
Chef and managing partner Hannah Elliot draws culinary inspiration from her mother, who is Filipino, and her paternal grandmother, who is Pakistani. The result is a pleasurable fusion of the two cuisines. We love the way the dishes combine the gratification of age-old recipes with the freshness of a next-gen chef. While you can build your own bowl with rice or mung bean noodles topped with meats or veggies and exotic sauces of your choosing, we prefer the kitchen to think it through for us. We're stuck on the beef and lamb meatball bowl, with green and red chutney, rice pilaf and Paki Pico, a chutney-dressed salad of cucumber, tomato and onion. Another great choice is the Sising roasted pork bowl–slow–cooked pork, mung bean noodles, savory Asian quick pickles and a garlic-vinegar-pepper sauce. Ask for a side of green chutney; the vivid cilantro, parsley and mint sauce goes with everything.
SCENIC ROUTE BAKERY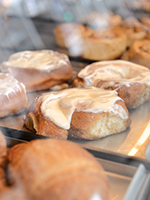 350 E. Locust St.; 515-288-0004
scenicroutebakerydsm.com
While Des Moines gets coffee culture, coffee-and-pastry culture has yet to go mainstream. If any place can make the pleasures of pastry go beyond a once-in-a-while indulgence, Scenic Route is the spot, thanks to superior espresso drinks and a rotating selection of baked treats made in-house from scratch. Specialties range from down-home to European-inspired—from thickly white-iced cinnamon rolls and chewy peanut butter cookies to ultra-flaky croissants and custardy canelés. Certainly, the kitchen turns out terrific salads and sandwiches for casual cafe dining, but it's the work of the bakers and baristas—dedicated to bringing so much joy to our everyday lives—that sets this place apart. 
THAI FLAVORS
1254 E. 14th St.; 515-262-4658
thaiflavorsiowa.com
In the late '90s, we all thought our Thai restaurants were pretty darn good. Then, in 2002, Thai Flavors burst onto the scene, showing us fresher, more vivid and stirring takes on Thai food. Now a number of really good Thai restaurants dot the city, but this one remains our favorite. Enjoy engaging takes on curries, noodle dishes, and stir-fries; good bets include the Tom Ka Kai soup, the green curry and the eggplant with sweet basil. Don't let the aging-strip-mall location dissuade you from checking it out; while the simple spot used to be best suited for a workday lunch, the decor was revamped a few years ago. These days, the ambiance remains casual, yet warm and inviting enough for a leisurely dinner out. +